Real estate in the San Fernando Valley has gone up and down over the years, although neighborhoods like Studio City and Sherman Oaks are continuing to see formidable growth in the overall real estate sector. To say that 2020 threw us quite a few curve balls is an understatement, and this is just as true in the world of real estate. It was reported that the greater Southern California housing market took a steep dive after a boom during the first month and a half of the pandemic. Mortgage rates were at record lows late last year, which led to prices spiking to their highest point in upwards of three years.
In other words: no matter how unpredictable the world at large can seem in the era of COVID-19, parts of the market are still hot. Offers abound, which means it's not necessarily a bad time to make a serious real estate commitment. That's why you're going to want to familiarize yourself with this summation of the latest East San Fernando Valley Real Estate Market report, so you can stay informed and up-to-date on trends, with hopes of making the right financial decisions for you and your loved ones.
Industrial Real Estate Submarket Key Statistics
Vacancy is up in the San Fernando Valley up to 1.4%, according to the report. There was also a recent, reported 12-month period of rent growth that amounted to about 3.1%, not to mention a year-long overall sales volume that eventually totaled out upwards of $313 million dollars (for context, the average in that respect would be about $149 million). Overall, the Valley's sales volume ended up reaching a sum total of $320 million.
There was also substantial growth in both warehouse and general industrial development in the valley this year. It is predicted that 2021's sales volume may exceed $120 million on the whole, although a number of variables would have to be in place for that to take effect. According to the report, at this time, there are a number of smaller projects that are set to commence basic initial construction within the coming year.
Industrial Property sales were recorded at about $314 million in the East San Fernando Valley, which are solid numbers when one takes into account the history of submarket sales in the region.


Industrial Real Estate Leasing
According to the East San Fernando Valley's last Industrial Submarket report, vacancies in this reported area currently stand at around 1.4%. With that, availability for space remains limited, more so than many other areas in the city. The submarket report currently reports a scarcity of industrial space in any stage of construction, as rates for monthly rent continue to climb, even in formerly gritty, working-class neighborhoods like Van Nuys, which has seen a boom in gentrification over the last five to ten years.
Of all the vacancies currently on record in the East San Fernando Valley submarket, less than 2% are below the city's average. This past September, a cluster of wholesalers – including Royalty Distribution and Janitorial, Food Service, and Safety Supplies – vacated an address on Vaughn Street in San Fernando itself, resulting in one of the largest move-outs from this calendar year (it has since been recorded that the vacancy has been filled by two new tenants). In May, this humble street also became the home for Movie machines, a company that rents restored vintage automobiles to assorted film and television productions.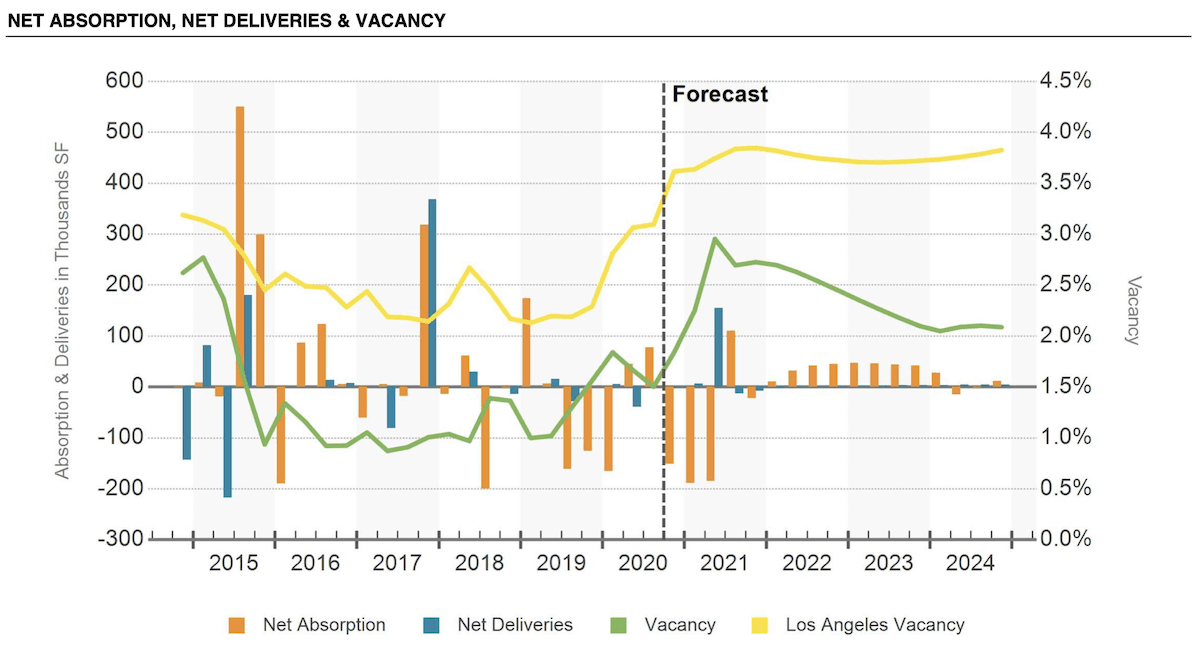 Industrial Real Estate Construction
There has been a slow, steady growth of industrial development in the East Valley submarket over the last ten years or so. New projects may have a difficult time finding access to available land (such is the case across much of Los Angeles County), much of which can be attributed to the current cost of land, and the subsequent population density. In 2017, the completion of the Sun Valley Business Center, a two-building complex made possible by Xebec Realty, marked the most substantial land delivery on record this past decade.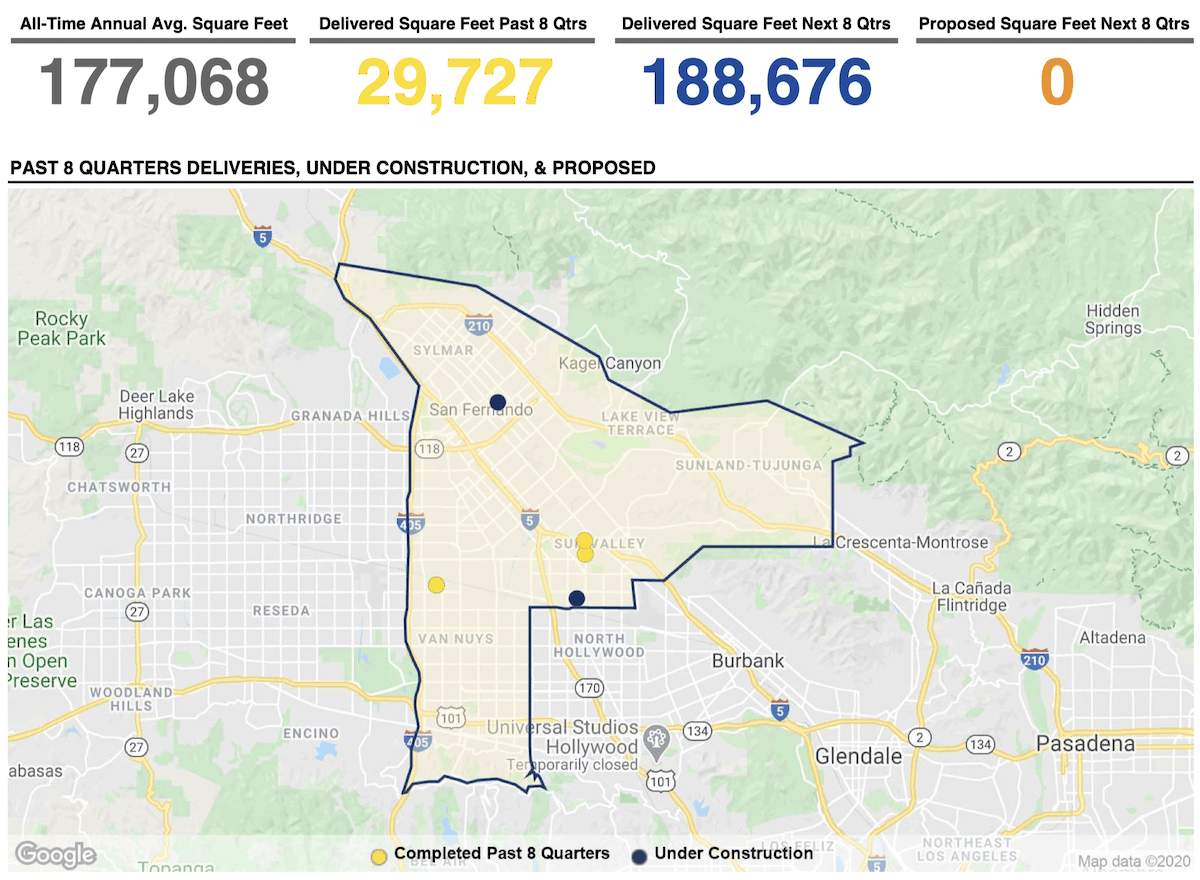 Industrial Real Estate Rent
The average rent for a commercial or industrial space in the East San Fernando Valley is recorded as being about 10% below the industrial market average in L.A. County. Rent growth on an annual basis was recorded at about 3.1%, which is roughly equivalent to the number that currently dominates the larger market. For context, in 2017, annual growth in this area was recorded as being about 5% higher – at 8.5%, to be exact.
Industrial Real Estate Sales
This part of the San Fernando Valley has seen over $300 million dollars worth of industrial property sales recorded over the course of the last calendar year, which are considered high by any general metric. Recent sales indicate that, in spite of predictions to the contrary, this aforementioned pricing did not suffer as a result of the ongoing COVID-19 pandemic. In November of this year, an industrial company called REIT Rexford Industrial acquired a 200,000 sq.-foot warehouse in Sylmar for a little over $40 million dollars (it should be noted that the property itself was completely leased before it went on the market).
MIG Commercial Real Estate Services Inc. and Alex Matevosian do not provide legal, tax or investment advice. Any published articles, blog posts, resources or other related material located on this website are for information purposes only. Please seek the advice of an attorney, tax professional, and/or financial advisor for legal, tax or financial advice.